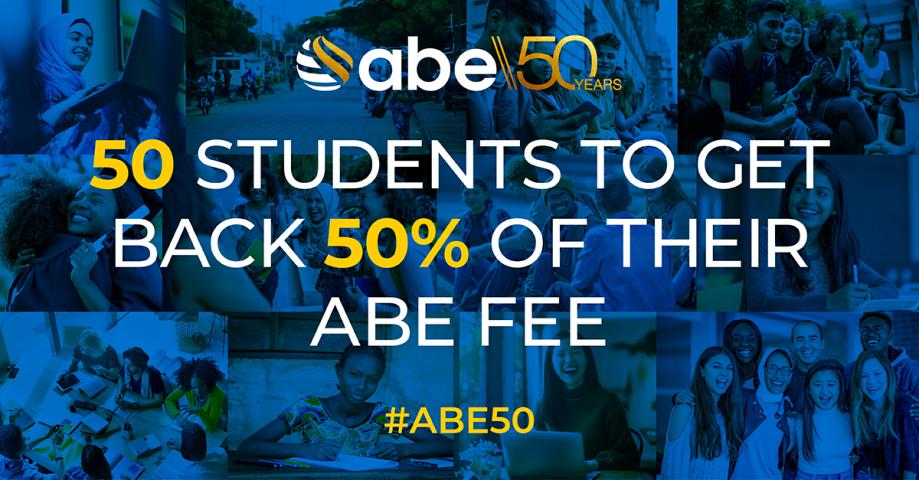 There's never been a better time to be an ABE student! We want our 50th anniversary celebrations to include something that would make a difference to a number of active studying members #ABE50. So, at the end of this year, the computer will randomly select 50 names from our membership database to receive 50% of their entire ABE qualification fee (excluding tuition).   If you have an active membership you will be included in the draw regardless of whether you are at the beginning or end of your studies.
This can be put as a credit towards the next ABE level, used to sponsor another learner as a scholarship in your name, or simply added as a nice credit to your bank account!
As a not-for-profit organisation, we strive to keep costs to a minimum whilst providing the highest quality of qualification.  Therefore, being able to offer this level of award to this number of people is a special one-off opportunity to thank our studying members during our 50th anniversary year.  #ABE50 #ABEway
How to be eligible for the #ABE50 fees back
At the end of 2023, the computer will randomly select 50 recipients from our active members' database for our Business Management-based qualifications (including Business Essentials, HR and Marketing streams).   New learners who join at any point during the year will be included in the draw as will anyone who has graduated in recent years if they maintain their membership to the year end. 
#ABE50 fees back are as follows
The #ABE50 fees back will be for the level you are currently on, or most recently completed if you have finished your studies (if you wish to go onto the next level you can request that it is credited to your ABE account to support the next stage of your learning).
Refunds will all be based on standard global fees regardless of your location or the price you paid:
Level 3 #ABE50 fees back contribution: £65.
Level 4 #ABE50 fees back contribution:  £222.50 (or £122.50 if registered for the Foundation Diploma).
Level 5 #ABE50 fees back contribution: £225.
Level 6 #ABE50 fees back contribution: £262.50.
Important
Please ensure you keep us updated with your current email address.
The awardees will be notified by email by 5th January 2024 and the refund will be made within four weeks of confirmation of payment preference.
No longer a member?
If you have completed your studies and don't plan to renew your membership, don't worry.  We're planning lots of other #ABE50 promotions that are not membership dependent so keep following us on social media.