ABE qualifications are assessed by assignments and timed open-book exams (timed OBEs) and provide the most up-to-date and relevant assessments available. These assessments develop skills that help learners become an invaluable asset in the workplace with a contemporary mindset able to apply knowledge to offer business solutions and critical analysis. Our assessments also develop sought-after abilities such as evaluating information,  report writing and time management.  
Finally, the assessments also provide superb preparation for academic progression as they are closely aligned to the type of assessment used by leading universities. 
Read more about this in our blog by ABE's Chief Executive.
Submitting work for assessment
All students must submit their work to their registered centre by the learners' submission deadline.  This gives your centre one week to submit assessments to ABE by the centres' submission deadline.
About Timed OBEs
Timed OBEs require students to prepare throughout their learning, keeping detailed notes from lectures, studies guides and wider reading.  Once the question papers are published they will have three weeks to complete their answers.  ABE will provide a breakdown of how many words are expected per question.  Unlike traditional timed exams, students will have access to their notes throughout the answering process as Timed OBEs are not testing memory, instead, the examiner wants to see that they understand how to apply what they have learned to a real-world business scenario.
Read our Timed OBE Guide in the library section of the portal (accessible to accredited centres only).
About ABE assignments
Assignments also test the ability to apply knowledge to real-world scenarios.  Compared to Timed OBEs there is a much higher word count and students can complete them over several weeks (assignment briefs are usually published eight weeks before the submission date).  This means they require greater research and learners have more control over the format of the work and more narrative is required.
Read our Assignment Guide in the library section of the portal (accessible to accredited centres only).
See our infographic below showing the difference between the two formats:
Image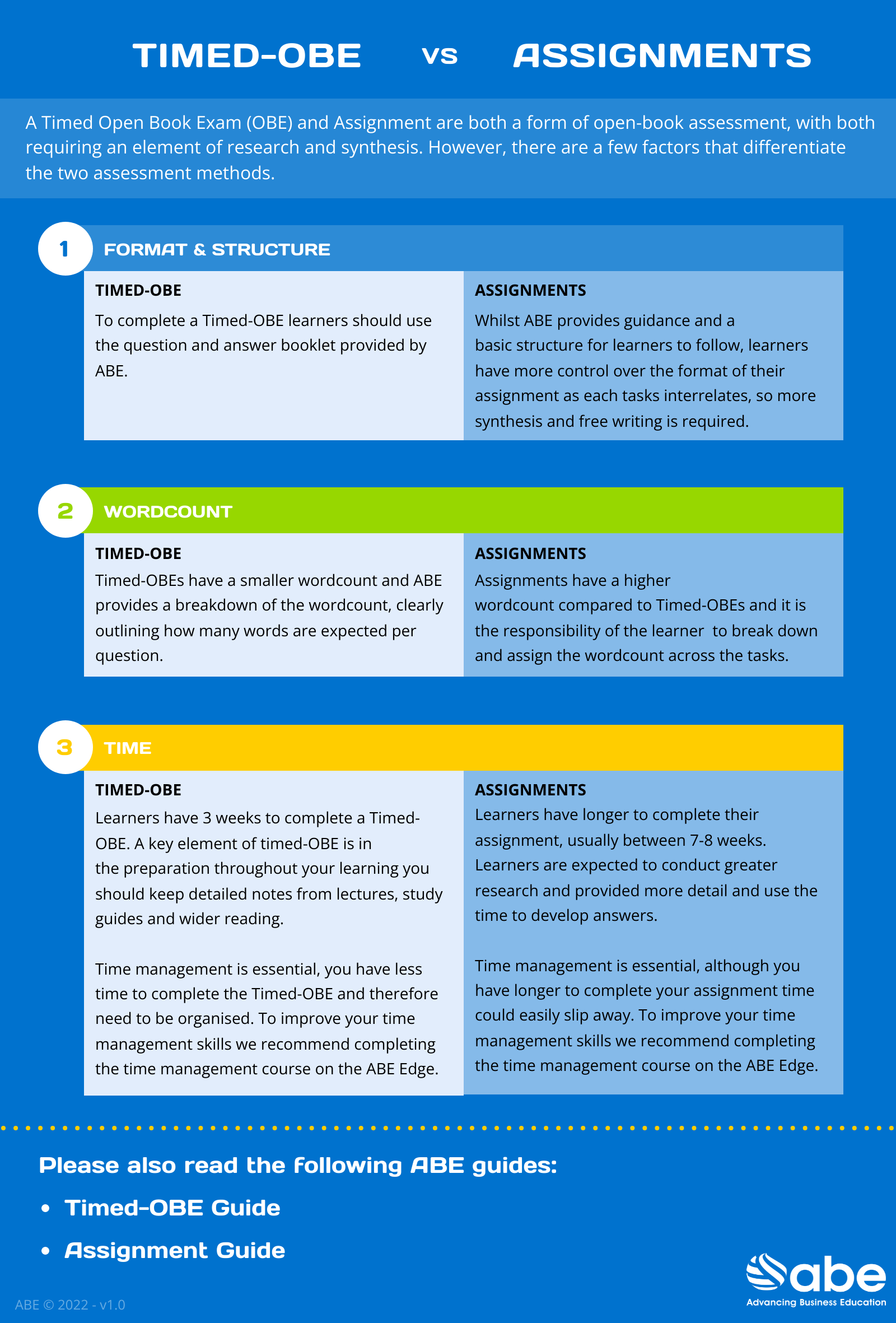 All the key dates are here
Before each assessment session there is a series of deadlines and key information release dates.  Find all this inform here.