Unleash the talent of future entrepreneurs
Give your pupils a great start in their future careers. With the ABE Endorsed KidsMBA students will have fun whilst gaining the confidence to set up in business and develop real-world business skills. This programme has been produced by leading authorities in business and entrepreneurship education.  It is based around the topics of an adult MBA and provides an exceptional introduction to business to an age group which is not normally exposed to this level of expertise. At the end of the programme, parents will love that their child receives a KidsMBA Certificate of Achievement featuring the branding of ABE: an internationally recognised awarding organisation and business education sector specialist.
ABE Endorsed KidsMBA offers a superb way to differentiate your school's curriculum with a highly desirable added-value programme that demonstrates its commitment to providing kids with future skills.
Recognised as a world-leading programme
Image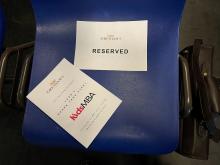 KidsMBA has been identified as one of the world's leading children's entrepreneurship programmes in Forbes magazine read the story here.  Every young person taking part in the programme will receive an ABE Endorsed KidsMBA certificate and they will be part of the international community of KidsMBA schools.  Your shark tank (or Dragon's Den) winner/s will have the opportunity to go through to our international competition, the Future Entrepreneur of the Year.
Read the news story from Gresham's School's Shark Tank (Dragons' Den) event here.
Benefits of the programme include:
Flexible delivery - you can fit delivery into your curriculum or offer it as an after-school activity - whatever works best for your school.
Superb teaching resources - the programme comes with a step-by-step downloadable guide to delivery and everything you need to start teaching from day one.
Marketing material to help you promote the programme effectively to your school's parents and prospective parents
You can choose how the ABE Endorsed KidsMBA is delivered to suit your school or organisation.
Plus, all KidsMBA schools have the chance to enter their Shark Tank winners for the international Future Entrepreneur of the Year title - read more here.
Content
This intensive programme, aimed at children aged 11-15, is designed to complement and enhance school education with a real-world taste of the life skills, know-how and aptitude required to run a business or become an entrepreneur. The KidsMBA opens up the concept of self-employment and business leadership to young people from all walks of life.  It introduces the concept of sustainability as part of the future business model and it's also a great introduction to future business studies.
The ABE Endorsed KidsMBA course is specially designed for schools and consists of 16 modules. The lessons are taught through lecturing, activities, role play and discussion.  It is designed to be flexible so schools can choose from a range of delivery options.
Read more in our brochure:
Future Entrepreneur of the Year
A prestigious competition
Schools which run the KidsMBA programme can put their star performer through to the final of our international competition to find the young person/people who demonstrate/s the highest level of entrepreneurial acumen.