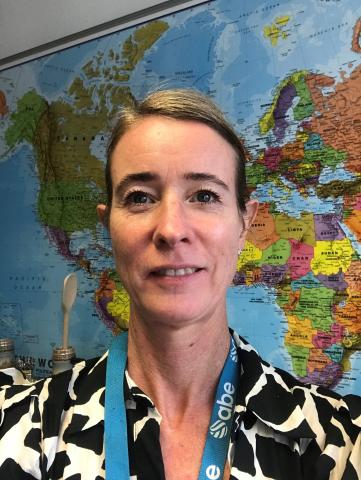 The ABE Way encompasses our mission, values and culture. 
As an organisation, we exist to empower people to transform their lives, providing them with the skills to be adaptable, have self-belief, and thrive in a volatile world.  These are the values our staff and team are committed to and they run through all that ABE does internally as well as externally.
Gillian Macfarlane is responsible for ABE's HR.  Here, she explains how she uses the commitments of The ABE Way in her approach to ABE's HR service as well as its policies and procedures:
Pride in your community
When someone joins us, I start by providing knowledge of ABE's values and mission through the induction process and throughout the new employee's probation period. 
Our mission and values make ABE the organisation that it is and are something we all take pride in. These values are reinforced on an ongoing basis through goals and objectives in our annual Performance Appraisal Development Reviews (PDRs).
A better version of yourself
For HR, this starts with recruiting high-quality staff, who are committed to The ABE Way. From here, we work to instil responsibility for self-development.  This means a commitment to constantly develop and improve. 
For managers, part of this is to follow the PDR process, ensuring staff feel valued, setting and reviewing goals in line with the ABE Way.  This helps staff find development opportunities and apply learning to give achievement and confidence.  To support this, I provide training to managers to add value to ABE. 
For me personally, this also means continuous self-development through keeping up to date with topical and relevant HR issues.
Resilience
We aim for staff to be resilient and anti-fragile with the support of HR.  Resilience is our ability to recover from adversity and it is key to bouncing back, to face challenging situations and uncertainty, helps us become stronger as people and as a business. HR contributes to this by sharing information regarding the importance of resilience, through supporting managers with wellbeing, providing signposts to assist with early intervention and promoting effective regular and positive communication. Leading to better wellbeing and creating a positive workplace culture with HR support. This has been particularly crucial during COVID, with continued home working.   
It is important for managers, to act as role models, to get to know their teams, keeping everyone in the loop to reduce anxiety, provide guidance and positive feedback on a regular basis, to build strong relationships and positive connections with their teams, looking out for their wellbeing and encouraging taking time off at the right time for the business.
HR has to be transparent, open and make all policies and procedures accessible with a focus on physical health and safety, as well as mental wellbeing.   It's also important to be compassionate and kind to ourselves, taking responsibility for our own wellbeing too.
Self-confidence
I believe it is HR's responsibility to train managers, so they have confidence in their knowledge of HR policies and procedures, which enables them to deal effectively with areas such as conflict and wellbeing in a timely manner.  Do our staff have confidence in themselves, their training and the knowledge needed for their roles?  HR is required to support and assist in the training and development of staff to build self-confidence.
Taking care of the above allows for collaboration and 'thinking ahead'.  It gives employees an opportunity to thrive and the confidence to contribute new, valuable ideas by building and sustaining relationships, both internally and externally, in turn, offering excellent service and an improved customer experience.
Openness
ABE's values include openness, we believe we should always be honest, open-minded and listen to our colleagues.  HR aims to make no assumptions, promoting acting with kindness, compassion, empathy and understanding.  With managers, I strive to communicate policies and processes that keep everyone in the loop. 
Openness also means managers should confront and fix difficult issues, following through with agreed solutions, with support from HR.
Our culture is to be inclusive, diverse, respectful and without prejudice.  We aim to be open to new ideas so that we foster creativity. 
Clarity of Purpose
HR needs to ensure we know our purpose, through clear job descriptions, 1-2-1s and regular communication and through senior management leadership and behaviours, so as a business we can see 'What we need to achieve', these paths lead to our values, work objectives and the ABE Mission.  That way, everyone knows what is expected of them in their individual roles, from their wider team, so we can see the big picture, have pride in the community and achieve our goals, the ABE Way.
All of these values: confidence, resilience, openness and clarity of purpose don't work in isolation of each other but are interdependent, constantly moving and changing. The challenge is for HR to continue to support staff, to be a 'better version of ourselves', 'taking pride in our community', our business, our colleagues, our customers and students in this 'volatile world', 'creating a more prosperous future for all'.