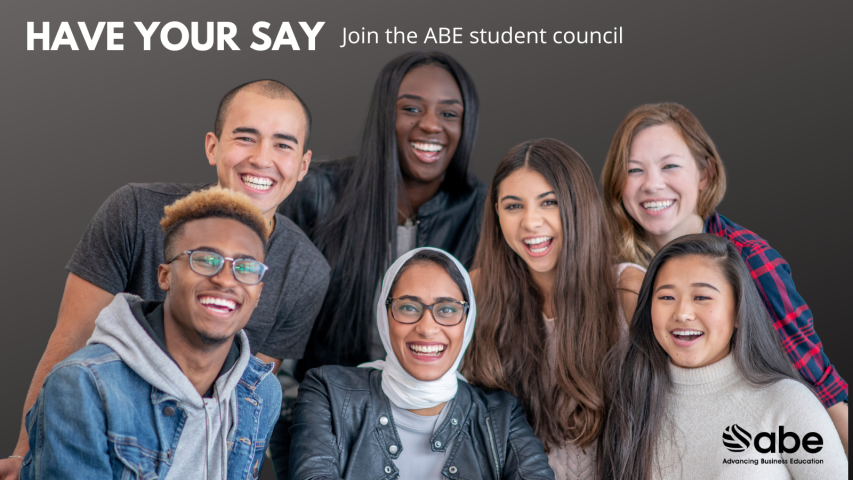 We are looking for council members for the first-ever ABE student council meeting.  It is a great opportunity for ABE members to represent their college, the wider student community, and get experience of taking part in online international meetings in a friendly and supportive environment, in line with the ABE way. #ABEway
The purpose of the council is to ensure that the views of ABE-studying members are represented across ABE.  We are looking for a diverse group of twenty men and women, representative of the ABE community, who can provide positive input and insight. 
How to register your interest in being on the ABE student council
The council meeting will take place online on 7th February 2023.  Speak to your ABE centre coordinator if you are interested in taking part. 
Please note places on the council are limited read on for more information about the criteria and how places will be allocated.
Council criteria:
Council members will need to be studying for an ABE qualification or within six months of completing and still hold an active ABE membership.
Twenty student members per council meeting.
One student representative per college.
A maximum of four student representatives per country.  
Meetings will be held biannually, but if demand for places is very high we may offer a second council meeting.  
First meeting: 1 pm-2 pm (UK time) Tuesday 7th February 2023. 
Allocation of council places:
Places on the council cannot be guaranteed, but the earlier the application is received the more likely it is that the nominee will get a place.  
Places will be allocated on a first-come basis with a priority for regional diversity so the first person put forward from one country may be given a place over a fourth applicant from another.  
We will aim to ensure there is a roughly even match of men and women.
Should a place not be available for a council member nominee, the student and/or centre will be offered a priority place at the next meeting. 
We have a closing date of 17 January but if all places are allocated before that date we will advise centres.
Speak to your ABE co-ordinator if you would like to join.