Top Paper Award in Business Ethics and Sustainability, studied at Zambia Centre for Accountancy Studies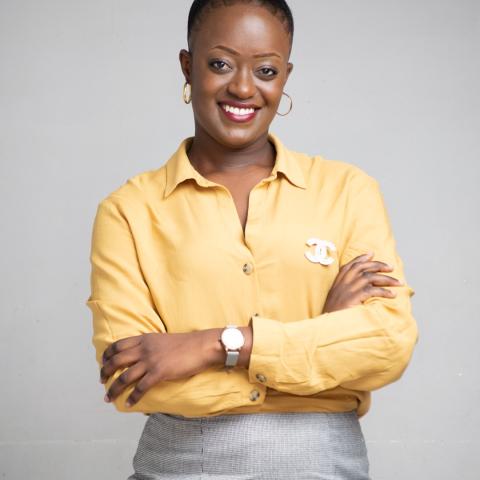 The business management course offered by ABE is applicable and relevant to my life because I believe business surrounds me every day, things like prices, inflation rates, exchange rates, demand and supply of goods and services etc. I chose to study ABE because it is aligned with my career path.
Investment administrator Miyanda chose ABE because it offer a wide breadth of learning that covered all the different subjects that she enjoys for an affordable price.  She says:
My full name is Miyanda Kasongo, I am a Zambian lady aged 28 years old. I am a second born in a family of four beautiful girls, a proud mother of one handsome boy and I am a Christian. My hobbies include reading books, especially motivational books and I enjoy singing and physical fitness too. I did my primary education from 2000 to 2005 at Kapopo basic school (chingola – Zambia) where I skipped grade six and went straight to attempt grade seven, I did well and it paved way for my secondary education. I did my early secondary education in 2006 and finally completed it in 2010 at Kabundi Secondary school (Chingola – Zambia). From 2010 to 2012 I did some short marketing projects where I worked as a sales agent. In 2013 July is when I decided to enrol with Zambia Centre for Accountancy studies for the ABE program (Business Management) and currently working for Madison Assets Management Company where I reside as the back office administrator in the Investments department.
I chose to study ABE because during my time in high school I never had a specific subject that I was attached to, I had a variety, I liked essay writing, and I liked humanity subjects like English, history, and geography at the same time I also liked problem-solving, so I liked doing things like maths, chemistry and accounts, I enjoyed both aspects of the learning spectrum. But when I heard about ABE (Business Management) I discovered that the course actually combines and blends together a lot of different concepts and learning styles which I really enjoyed. It has the quantitative side with subjects like corporate finance, financial accounting, and quantitative methods for business which stimulated my brain, but then there's also on the opposite spectrum things like human resource, organisational behaviour, and business ethics that taught me a lot more on psychology and lessons that prescribe for more essay writing. The Business Management course offered by ABE is applicable and relevant to my life because I believe business surrounds me every day, things like prices, inflation rates, exchange rates, demand and supply of goods and services. Last but not least I chose to study ABE because it is aligned with my career path.
ABE is a programme offered by many universities and colleges throughout the world. The public and employees have a positive impression of ABE because they consider it to be a course that allows one to obtain the knowledge and skills needed to assume management positions in a wide range of organisations. The public also has a right impression about ABE for it has immersed entrepreneurism throughout the programme which helps develop skills needed to build, run and grow a successful business. 
Upon completion, I want to do a Bachelor of Business Studies (BABS) with the University of Greenwich.
One of the best things about studying with ABE is that it offers standard courses at an affordable and cost-effective price.
There's also access to personalised portals where one can access study materials and past papers which are very clear, precise, up to date and one gets information out of it. ABE also helps one develop skills that can be applied to any role and at any level.
The skills that I have gained from studying with ABE include:
Accounting Skills – The likes of financial accounting and corporate finance have given me the ability to prepare financial statements and reconciliations which has been helpful with my current job where one of my roles is to prepare cashbooks and reconciliations of investments and record day-to-day transactions on a monthly basis.
Marketing Skills - The likes of principles of marketing have helped me boost my confidence in formulating a successful marketing strategy that covers all the bases from creating content that shows my industry know-how to offering exceptional customer service like in my previous job where I did marketing projects.
Mathematical skills - The likes of quantitative methods have given me the ability to choose the right mathematical methods and formulas to solve a problem. The ability to add, subtract, multiply or divide quickly and correctly. The ability to arrange things or actions in a certain order or pattern according to specific rules.
My study tips include:
Always begin with a prayer. Pray to God that he keeps your mind awake and that you stay focused away from distractions.
Pay attention to the learning outcomes, and understand them fully as they have always guided me on what concepts I need to get familiar with.
Study at least 2-3 hours a day.
Aim to finish one topic in a day, depending on how broad the topic is.
Always make use of past papers (examiner's reports), they give guidelines to how questions are phrased.
Last but not the least, I would recommend that one makes use of websites like B-ok.Africa for free eBooks to do research for both assignments and exams.
My long-term career goals are to work hard diligently and handle responsibilities.  I want to earn a higher degree, gain new experience, I want to become an expert in my field, I want to achieve satisfaction, and remain motivated. I need to obtain a leadership position and lastly, establish a personal brand.