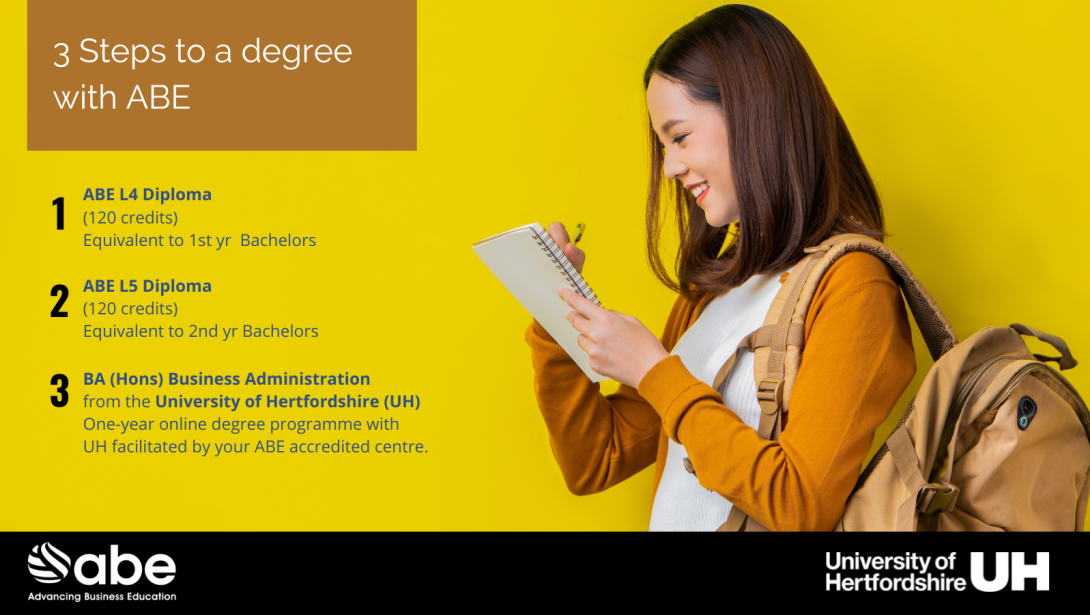 Through our exclusive partnership with the University of Hertfordshire (UH), ABE accredited centres can market a seamless journey to a degree from a leading UK university as part of the ABE value proposition benefitting from an incredible advantage in the market.  The UH BA (Hons) Business Administration (top-up) (online) is a fantastic opportunity to turbocharge enrolments and generate revenue.*
How the top-up works
On successful completion of an ABE Level 5 Diploma, students' enrolment onto the top-up degree is entirely managed by their centre and ABE head office.  The offer is exclusively available to ABE centres and marketing can include the degree pathway as a central part of the offer.  This helps our centres reinforce their academic credibility and grow enrolments.
The teaching of the degree is solely through UH's online platform, with an enrolment fee paid to the centre.  Centres also have the option of offering paid-for pastoral and academic support.  
Course length
Part-time, three consecutive semesters (12 months). 
Modules (15 credits per module)
Through the following modules, the course offers a deep knowledge of business and the disciplines that unpin it.  
Business Strategy 
Contemporary Issues in Business and Management 
International Human Resource Management 
Leadership and Organisations 
Business and Commercial Awareness 
Global Marketing, Ethics and Culture 
Issues in the Global Economy
Digital Economy
When can I join?
Intakes are September, January and May - deadlines as follows:
January 2024 intake: application deadline 15 November 2023
May 2024 intake: application deadline 15 April 2024
Entry requirements
To be eligible for entry learners need to have successfully achieved an ABE Level 4 and Level 5 Diploma from the current (RQF) syllabus and hold English language to the equivalent of the International English Language Testing System (IELTS) score of 6.0 (with no less than 5.5 in any band).   Alternatively, they can hold 240 credits from our Level 5 and 6 Diplomas.
If this is not the case, they may be eligible for our non-standard entry - see our guide below
Learners fee:  £2,500 payable in three instalments.  Caribbean fee £4,500.
Contact us for details of centres' enrolment commission (please note you will need to be an accredited centre to receive this). 
If your centre is not ABE accredited click here for more information.  If you are interested in this programme for personal development please click here for learner-specific information.
* Not available through ABE in Guyana & Trinidad & Tobago
Download the alternative entry scenarios flyer