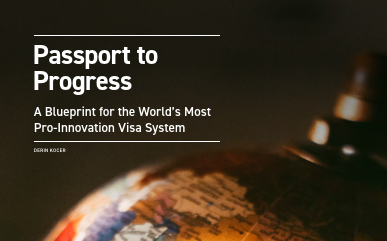 Passport to Progress a new ABE-funded report from leading business groups urges a radical rethink of migration policy in order to stimulate economic growth. 
Passport to Progress: A Blueprint for the World's Most Pro-Innovation Visa System is being launched today in the House of Lords. It has been produced by UK government think tank The Entrepreneurs Network, and foreworded by Lord Bilimoria.  The report highlights that in order to tackle talent shortages and productivity stagnation governments need to invest in talent, making migration policy increasingly important. It argues that a competitive and flexible visa system is a must for any country that wants to innovate and grow. 
Looking at best-case examples from around the world, the Passport to Progress puts forward a number of policy recommendations for the UK, which governments elsewhere can adopt to attract top international students, high-skilled professionals, STEM researchers, entrepreneurs, and unusually talented individuals. 
Passport to Progress reveals that Canada has been exceptionally successful in attracting high-achieving international students, accounting for a six-fold increase in numbers. Canada is realising the benefits of positioning international graduates as the future of its workforce. The report argues that any country competing for skilled international graduates needs an unsponsored right to work, with their time at university counting towards permanent residency. 
 
High Potential Individual visas, which grant two-year work visas to graduates of top universities, is highlighted as a unique and creative policy example. It also advocates for granting permanent residency to advanced STEM students on the day of graduation. 
 
Passport to Progress recommends the establishment of specialised task forces within the Government to actively recruit entrepreneurs and talented STEM professionals.
 
Ireland's Critical Skills Employment Permit, which allows Irish firms to bring in talent from overseas is held up as a well-designed policy example for attracting high-skilled professionals. In contrast, the sponsorship system in the UK disproportionately benefits big firms and disincentivises talented professionals from launching their own businesses in Britain. 
 
For attracting entrepreneurs, Passport to Progress highlights Israel's Innovation Labs programme, which provides migrant entrepreneurs with access to critical technological infrastructure, and New Zealand's Global Impact Visa, which creates training, investment and networking opportunities for migrant entrepreneurs. The report argues that via similar policy interventions, policymakers in the UK and elsewhere should ease the process of starting and growing businesses. 
ABE believes in an open market economy where everyone benefits from responsible globalisation and trade.  Funding research such as this, which has the potential to benefit ABE alumni founders who are looking to migrate, as well as supporting policy best practice in all the communities we serve is central to this remit. Rob May, Chief Executive Officer of ABE Global, said: "Recently in the UK, the positive effects of migration have once again become clouded in a hostile narrative. This neglects the historical truth that the flow of ideas, talent and people has been the cornerstone of peace and prosperity. With this report, we hope to unlock a sensible conversation in which the true potential of migration can overcome misplaced concerns."
Follow #Passport2Progress